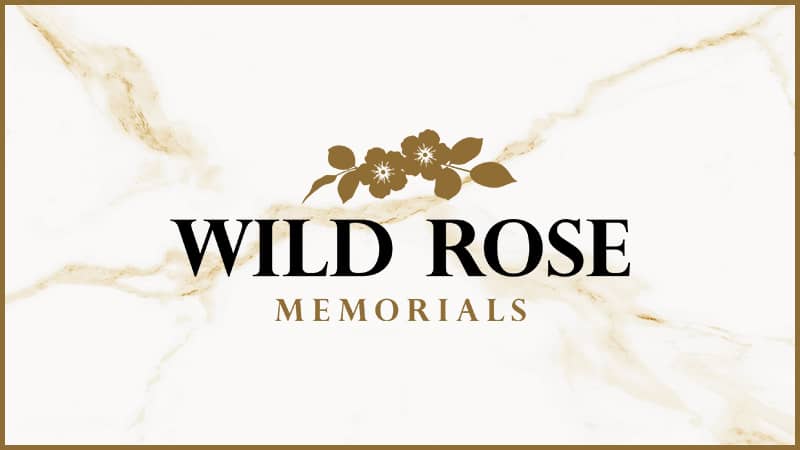 About Wild Rose Memorials
Wild Rose Memorials provides monuments and memorials artfully crafted from the highest quality materials for clients across western Canada and beyond. Based in Airdrie, Alberta we are locally owned and source out the finest stones and other materials from trusted local suppliers. We are committed to inclusivity and accessibility delivering beautiful and enduring tributes to anyone at any price point and installing memorials wherever the final resting place of your loved one may be.
When it is time to explore your options to commemorate a lost loved one, the best choice is Wild Rose Memorials.
The Wild Rose Memorial Difference
When you are tasked with selecting the enduring memorial to mark the passing of your loved ones, you have options. Your decision will likely be influenced by the life and legacy of your loved one, time, and budget. Wild Rose Memorials is a locally owned provider with a multi-generational history providing the highest quality monuments to western Canadians. This is the Wild Rose difference.
Expert Craftsmanship, Exceptional Quality
Wild Rose Memorials is committed to providing you with exceptional quality and expertly crafted monuments and memorials. With a range of material and design options available, we are committed to ensuring everyone can create a beautiful memorial for their loved ones at affordable pricing. Here are some of the monument styles you can choose from.
Our Promise To You
We promise to be forthright; you will never be surprised with unexpected fees and charges. We promise to be fair; share with us your budget and your goals and we will work together to make it happen. We promise to be compassionate; choosing a memorial for a loved one who has passed is never easy - we will guide you with empathy and care. Our commitment to commemorating your loved one in the most fitting and appropriate way is the Wild Rose Memorials promise to you.
Pre-Arrange For Peace Of Mind
Pre-arranged memorials are a gift for you and for those you love. By choosing pre-arranged memorials, you can ensure that your beloved's final wishes are respected and their memory is cherished for years to come. With thoughtful planning and careful consideration, these memorials will serve as a lasting tribute to the exceptional life they lived.
Pre-planning the monument to mark your final resting place allows you to personalize your marker according to your style and values, eases the burden of complex decision-making during a time of grief and sorrow for your loved ones, and allows you to look in at today's pricing to make funereal budget planning easier and more predictable.
Give yourself and your family peace of mind with Pre-Arrangement with Wild Rose Memorials.
With You Every Step Of The Way
When you are ready to explore your options for custom memorials and monuments to commemorate your loved one, choose Wild Rose Memorials. Our process is simple, compassionate, and transparent. This is what you can expect when you choose Wild Rose to create a beautiful and meaningful tribute to those who have passed on.
1.Complimentary Consultation
The first step in selecting the ideal memorial for your loved one is our no-pressure, no-obligation, complimentary consultation. Share with us your vision for the perfect monument and we can provide options for materials and design that meet your goals and work within your budget. Whenever you are ready to proceed we are ready to work with you.
A Fitting Tribute For Everyone
Wild Rose Memorials aims to be inclusive and accessible, providing memorials and monuments of the highest quality to anyone in western Canada memorializing a lost loved one. Inclusive means we welcome every religion and denomination, every creed, every culture, and every race. Accessible means we are here for you, we can come to you if necessary, and together we can design a memorial that is a fitting tribute, whatever your budget.
Please fill out a free consultation form or call us at 1-403-912-4048 even if your location is not listed below since we would still be happy to help you.